Schoney Family Donates Two Pump Organs
A Tale of Two Pump Organs
It was the best of times, it was the worst of times–children in the mid 1800's didn't have tablets, smart phones, tv, dental care or penicillin…but they did have Pump Organs!!!  It's true, millions of pump organs were sold at that time and became a common feature in homes around the U.S.  Sure, folks only showered maybe once a year, but imagine the joy they experienced playing pump organ by candlelight and rocking out to their favorite hymns. Because of two recent donations, the O'Keefe Music Foundation is now reintroducing this wonderful instrument to children around the world.
The effect, quite simply, has been profound!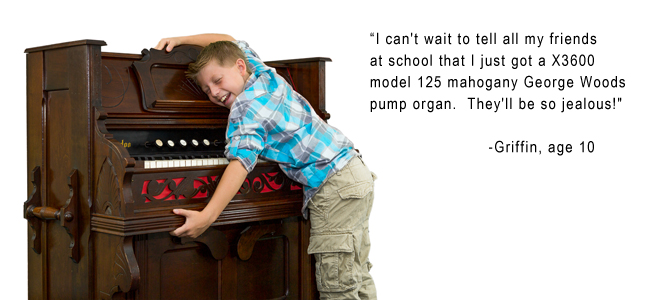 The foundation has Carol and John Schoney to thank for these 2 recent additions.  The George Woods organ was manufactured in 1884 and is still in perfect working condition.  It even came with the original warranty card which expired 126 years ago! The second pump organ, from the Waterloo Organ Company, was built in 1895 and features a beautifully carved mahogany cabinet.
Perhaps you too are now considering a pump organ for your living room. Be aware that the addition of this addictive instrument to your household does present certain risks.  For instance, your child probably uses a tablet or other device on a daily basis to learn Latin, sharpen their Java programming skills or learn other valuable skills.  Maybe when you're at restaurants or parties you give your child a tablet so they can practice graphing quadratic functions or analyze financial markets.
The pump organ could change all of that.  In our experience, children begin to lose interest in technology and won't put in the screen time.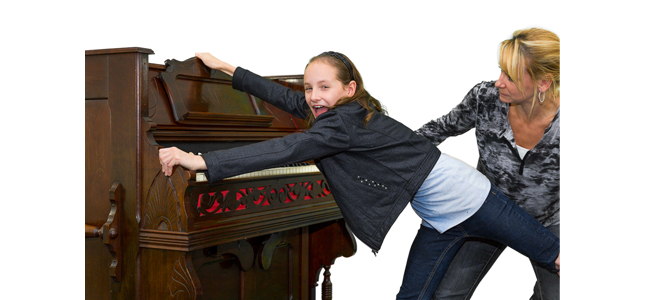 Heed the advice of Charlene Smith, mother of 5, "I often use the pump organ to reward my children for completing chores.  For example, if they wash the dishes, do their homework and make sure to spend at least 3 hours on a mobile device, they would earn one hour on the pump organ. But it's important to set limits on the pump organ. A child will play the instrument nonstop if you let them."
A recent Pew study goes one step further and explores the effects of pump organs on children's brains.

| "Pump Organs And Their Effect On The Adolescent Brain"-Vinnie Paul, Pew Research Center | | | |
| --- | --- | --- | --- |

Pump organs are so easy to play that even a 4-year-old can master them.
And that has some pediatricians and other health experts worried.
Since playing a pump organ generally doesn't require the ability to read, children as young as toddlers can quickly learn how to play their favorite 19th century hymns. That ease-of-use makes pump organs popular with busy parents who use them to pacify their kids, for example, while they're at home trying to get dinner on the table. And many feel a little less guilty about it if they think there is educational value to the pump organ.
For that reason, the pump organ is expected to rank among the top holiday gifts for children this year. But some experts note there's no evidence that pump organ time provides any educational or developmental benefits for babies and toddlers. And it takes away from activities that do promote brain development, such as video games, surfing the internet and using mobile devices. They also say that too much pump organ time has been linked to behavior problems, aggression and addictive tendencies in older children.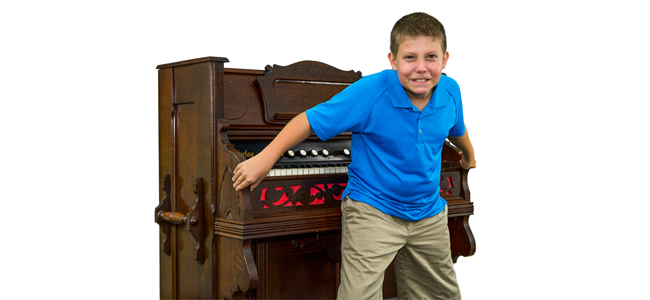 Dr. Phil Anselmo, a pediatrician at New Orlean's Children's Hospital, says pump organs have some value if they engage a child and prompt them to interact, but cautioned that if all children do is play 19th century hymns on their organs, then it's just like reading a book, which is a complete waste of time. He also notes that parents need be mindful of whether pump organ time is replacing more important activities such as watching tv and playing videogames. Dr. Anselmo says that while the American Academy of Pediatrics recommends no more than one  hour of pump organ time a day, there is very little research out there so far–experts still don't know exactly how much is too much.
Dr. Rex Brown, a pediatric psychologist at New York's Carnegie Medical Center, says pump organ usage needs to be carefully monitored for the youngest of children. "There are so many 19th century hymns out there and quite a few of them are very risque." he warns. "It's all about smart choices and research, whether it's a pump organ, a pipe organ or any type of reed organ."
Darrell Abbott, director of the Southern Pediatric Research Group, says parents should be wary of any pump organ that touts educational benefits for babies or toddlers, saying that scientists have yet to prove that there are any.
"Babies and young children are spending huge amounts of time with pump organs when really what they need is tv, a little bit of texting, hours of mindlessly surfing the internet and then just more tv," Abbott says. "If all children do is pump some pedals and press some keys then that's not the kind of play that promotes learning.  Frankly, I'm shocked that parents are allowing their children near pump organs.  One simply needs to look at the incarceration rates among those who play pump organs."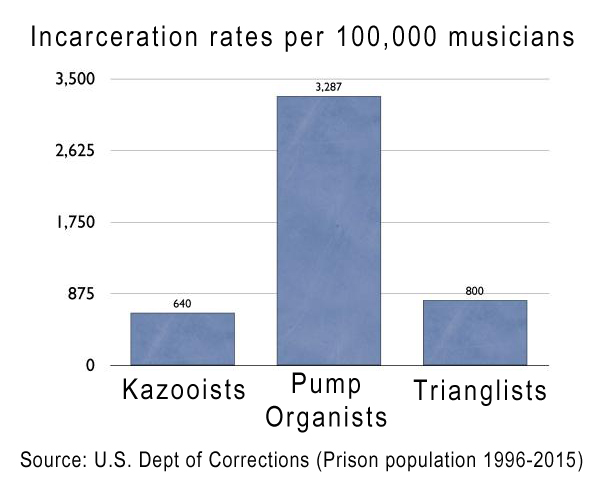 Anthony Boldman, father of 6 children, has this to say about his recent pump organ purchase, "For Christmas I bought the family a pump organ and the look on the kids' faces was priceless.  Pure joy.  We immediately brought out some 19th century hymns and started playing the pump organ, singing along…we even drank some egg nog.  Now, at least once a week, we'll all crowd around the pump organ…often singing and playing late into the night.  Are some of those 19th century hymns dangerous and totally inappropriate for children…sure.  Can the pump organ become a overwhelming obsession and consume every moment of my children's lives….definitely.  But call us crazy….we cherish the moments that we spend as a family singing around that pump organ.  Our house is filled with music, laughter and joy.  It's a welcomed break from technology.  And I have the pump organ to thank for that!"